No, Boris Johnson and his government don't care about children's education. Tories care about the Economy, Money, and their good friends' businesses and shares. They worry not about the little ones learning Maths and English but about their parents showing up at work every morning.
First published in May 2020 | Updated in December 2020.
---
---
The situation in December 2020
As the country prepares to celebrate the new year, Education Secretary Gavin Williamson announced on 30 December (just 5 days before the schools were meant to reopen) that some secondary schools in England would remain closed for another two weeks, whilst most primary schools would remain open.
In a statement he made in the House of Commons, he said: "We will be opening the majority of primary schools as planned on Monday 4 January. We know how vital it is for our younger children to be in school for their education, wellbeing and wider development."
"So often, we have had to close things down to try to beat this awful disease, but with schools our best line of attack is to keep them open, using the mass-testing tools that we now have available to ensure that children are able to continue to gain the benefit of a world-class education.
"As we continue to hear more encouraging news about the vaccine roll-out, I am more determined than ever that children will not have to pay the price for beating covid.
"With these plans, which allow for rapid testing and the controlled return of schools, I am confident that we can minimise the latest health risks posed by the virus."
Very touching words which we should definitely salute as it demonstrates the commendable government's determination to keep children educated at all costs during this pandemic for their well-being... if it was not for the government's true agenda being buried in the Department for Education's guidance for schools, published this very Wednesday.
No, Boris Johnson and his government don't care about children's education. As previously explained, the Tories care about the Economy, Money, and their good friends' businesses and shares. They worry not about the little ones learning Maths and English but about their parents showing up at work every morning.
The problem is, there is a major disconnect between the government and the parents.
According to a Parent Ping app survey of parents of school-age children, 54% of respondents agreed that the start of term should be delayed at all schools across the country. Only 5% disagreed with any delay at all.🔷
The situation back in May 2020
Totally buried under the Dominic Cummings story is Boris Johnson's decision to reopen schools on 1 June despite advice now by both SAGE and Independent SAGE that it would be a mistake to do so.
Have you noticed the number of Tory MPs the likes of Robert Halfon, Steve Baker, and others, Cabinet Ministers Alok Sharma, Michael Gove, Gavin Williamson, Dominic Raab, Matt Hancock, and the Prime Minister Boris Johnson himself, all insisting in the media for the past couple of weeks that it is now high time for children to return to school?
As the Government prepares to ease the lockdown in the UK – and despite the ongoing Cummings story – it is important to understand the real reason Boris Johnson insists on reopening schools on 1 June.
The U-turn
You may remember Dominic Raab, just a month ago, telling the BBC's Andrew Marr Show that it was "inconceivable" that schools could reopen without some form of social distancing being put in place. At the time, the Foreign Secretary even told Andrew Marr that possible measures were being tested by scientists, but he didn't want to "worry" parents and teachers by discussing the details then.
"I think it is inconceivable they would come back without further measures as are already being applied in those schools that are open for key workers and looking at how that could be done.
"If I start suggesting one or other thing now without us knowing where the virus is and without us testing these measures with the scientists, which is the homework we are doing, we send the wrong signal and we don't provide reassurance – we actually might provide worry for parents and teachers.
"We know that among children and young people it is much less likely to have a dangerous impact on them but children as a means for spreading the virus between households is something where we need the scientists to give further evidence."
Two weeks later, after Boris Johnson had given the start signal to easing the lockdown measures in the UK, the Foreign Secretary told BBC Breakfast something very different.
"The evidence suggests that there's very little, there's much lower risk for young children getting this virus ... We'll obviously have more evidence by the time we get to June 1."
Communication and planning failure
It had suddenly become safe to send children back to school, according to the British Government.
And it looked like ministers had been ordered by Number 10 to do the media round, every day, in addition to the usual daily briefings, to make sure people did understand the PM's message that kids needed to get back to school on 1 June.
Cabinet ministers were on a mission: convince the Great British parents that their smart little ones risked nothing and had to return to school quick. Using social media if needed.
Any means to convince the unconvinced. Even appearing with a very weird multicoloured, Damien Hirst portrait of Queen Elizabeth II in the background of your video call.
But what may have looked like a done deal in Downing Street turned out to be yet another planning and communication failure due to this Brexit Government's absolute inability to prioritise public health over public relations.
Indeed, in turn, teachers, headteachers, and councils answered to the Government's plan in the negative.
Parents too were worried. A poll by childcare.co.uk showed that up to 81% of 20,000 of their members would not send their children back to school if they reopened in June. A survey of more than 4,000 families in England, analysed by the Institute for Fiscal Studies (IFS), also showed that only 39% of primary school parents and only 45% of secondary school parents would send their children back if they had a choice. Only a third of those from the poorest UK households were in favour of sending their children back to school.
The Government's PR strategy had failed.
It was time to up the game. On the Andrew Marr show that followed, Michael Gove went fighting, saying of the teachers and local authorities:
"I respectfully ask them to think again. If you really care about children, you'll want them to be in schools. You will want them to be learning. You will want them to have new opportunities. So look to your responsibilities."
According to him, teachers had to prove that they really cared about the children by wanting them to be in schools because, after all, teaching is not only a mission but also a vocation.
The former Education Secretary then claimed that it would be "absolutely safe for children to return, absolutely safe for teachers and other staff to return as well", and that anyway "other countries [had] succeeded in ensuring children can return to school safely."
Sadly, the Senior Brexiter failed to remind viewers that other countries have different infection rates too, different education systems, different facilities, and that – most importantly – other countries don't currently have the second worse Covid-19 death toll in the world behind the United States.
Compare apple with apple, not apple with pear, Mr Gove.
When the Tories found themselves a heart
Number 10 then launched an intense seduction operation to lure the parents away from their union with the teachers against the reopening of schools on 1 June.
Education Committee Chair Robert Halfon MP, for instance, explained on Newsnight how the Government was very worried about the education of the most disadvantage children in Britain during the lockdown.
"We are denying thousands and thousands of vulnerable children an education and that's potentially going to have enormous damage in the future."
Four days later, in his coronavirus daily briefing, the Education Secretary Gavin Williamson also mentioned poverty as a justification for reopening schools, saying that if schools were to remain closed, the poorest, most disadvantaged children would fall furthest behind.
He explained that school is the safest place for children from difficult or unhappy homes, and that the lockdown had meant that many children had not played with or even spoken to other children for two months.
And let's be honest, we could not agree more. Remote learning during the lockdown has indeed been increasing inequality. No one contradicts that fact. It is a fact.
But where does this sudden concern for the poorest and most vulnerable individuals in our society come from in Toryland?
Where was that concern for the poorest and most vulnerable when Philip Alston, the former UN rapporteur on extreme poverty and human rights, called poverty in the UK "systematic" and "tragic" as one-third of British children currently live in relative poverty?
Where was that concern for the poorest and most vulnerable when Alston concluded in his 2019 report that "the bottom line is that much of the glue that has held British society together since the Second World War has been deliberately removed and replaced with a harsh and uncaring ethos. A booming economy, high employment and a budget surplus have not reversed austerity, a policy pursued more as an ideological than an economic agenda."
Sadly, there was no such concern for the poorest and most vulnerable at the time – last year.
Visit to the United Kingdom of Great Britain and Northern Ireland, Report of the Special Rapporteur on extreme poverty and human rights. | UN/Human Rights Council, 23 April 2019
In fact, the report and its findings were even dismissed as "barely believable" by a spokesperson for the Department for Work and Pensions (DWP) who called the report "a completely inaccurate picture of our approach to tackling poverty", and instead claimed that "the UN's own data shows the UK is one of the happiest places in the world to live."
So, where does this sudden-found compassion for the poorest and most vulnerable individuals in our society come from? Is the Conservative Party having an epiphany? Has Boris Johnson had a revelation that has suddenly changed his view on poverty? From the Nasty Party, are the Tories turning into the Softy Party?
No.
The Tories' concern for the poorest and most vulnerable is driven by one thing and one thing only: If children don't return to school, their parents don't return to work, therefore the economy doesn't work properly, thus the wealthiest people and big corporations in the country lose money.
In a nutshell...
STAY HOME > PROTECT THE NHS > SAVE LIVES
had become...
GET BACK TO WORK > PROTECT BUSINESS > KEEP MONEY COMING
Simples!
Rich List 2020: Britain's wealthiest lose billions to coronavirus. / The Sunday Times | 16 May 2020
In Toryland, it seems, British children going back to school – or rather, their parents going back to work (and wealthy Tory donors and lobbyists making a lot of money) – comes before the children and their teachers' health.
Don't be mistaken. People can see through the government's hidden agenda.
Labour MP Dawn Butler, for example, told the Channel 5's Jeremy Vine show, "[Boris Johnson] is sending people out to catch the virus", before accusing the Prime Minister of being "reckless" in his handling of the pandemic.
On the attack
As a majority of teachers and headteachers still refused Number 10's timetable to reopen schools on 1 June, the Conservatives and their powerful, fanatic press had no choice but to turn up the pressure.
First, they tried to play on the teachers' sense of duty, and so the Daily Mail told the teachers unions that by helping children getting back to the classrooms, teachers too could become 'heroes'.
The Mail was being disingenuous there as we all perfectly know that teachers have not stopped working during the lockdown. Some teachers prepare, correct, and even give online lessons every day via home-learning, whilst the others have been teaching the children of keyworkers in schools every day during the lockdown.
Teachers already are heroes.
The first wave of attack failed and instead attracted more reactions from people in favour of children not returning to the classroom just yet, and in support of their teachers.
After the first wave of attack failed, the Tory press changed tack. It was time to turn the parents against the teachers and their unions.
No, contrary to the Mail's front page on 19 May, every parent's question for Britain's teaching unions was certainly not "When will they learn?"
It is more likely that most parents' question for the British Government was in fact "Can you guaranty that schools are really safe for our children?" instead.
A difficult question to answer.
A survey by YouGov published on 18 May even found that 50% of Britons opposed the government's approach to reopening the schools in England on 1 June.
And another poll showed that only 5% of teachers thought it was safe to reopen English schools.
So, first came the attacks. Rebuked.
Then came the jokes, the memes, and the mockery of teachers on social media from Tory voters and supporters alike... They all quickly forgot about the Mail calling teachers 'heroes'!
Even from some high-profiles and Tory donors, such as Lord Michael Ashcroft, the Tory donor who does not actually reside in Britain himself, and who recently proposed to honour NHS workers with the gallantry gong given for acts of bravery that did not take place in battle.
After clapping on Thursdays only, after Matt Hancock's badge for care workers, a medal for health workers...
Britain really knows how to thank its heroes! [sic]
What about Camilla Tominey, Associate Editor at the Telegraph, who told the BBC's Question Times that "teachers could be more at risk going to the supermarket than going into classrooms"?
How can we possibly have a serious conversation with phony and cynical people?
BBC Question Times | 21 May 2020
It's all about trust
As more and more councils across England warned they would not reopen schools, the government had to find a way to put pressure on the local authorities too.
They started with the Mayor of London who was forced by Number 10 to resume a full service of the London underground, to raise fairs for Londoners on public transports, to hike the Congestion Charge to £15 a day, and axe free travel for schoolchildren and the over-60s at peak times, in return for bailing out Transport for London.
"It was the only deal the Government put on the table and I had no choice but to accept it to keep the Tubes and buses running," Sadiq Khan explained.
Scotland too was told there would be no more furlough payments from the Chancellor should First Minister Nicola Sturgeon decide to keep her nation in lockdown for longer than the rest of the UK.
Because it's all about trust, isn't it?
But how can you possibly trust the very same politicians who told you that the government had indeed "thrown a protective ring around care homes" from the start of the coronavirus outbreak, who keep inflating the daily reported diagnostic test numbers to be able to claim that the government hits its 100,000+ tests a day target regularly, and who obscure and irritatingly obfuscate people with their regular gibberish talks and nonsensical messages to cover the government's failures over coronavirus?
How can you possibly trust them?
Whilst Housing Secretary Robert Jenrick remained in Government after dodging the lockdown to visit his parents, Professor Neil Ferguson resigned from SAGE for receiving his friend at home, and Scotland's Chief Medical Officer Catherine Calderwood resigned after making two trips to her second home. Boris Johnson's own Special Adviser, Dominic Cummings, too dodged the lockdown with his wife and child whilst being infected with the coronavirus to drive all the way to Durham from his North London home and kept his job.
Why different standard?
From the beginning of the coronavirus crisis, this Brexit Government has failed in its chief duty to protect the citizens of this country.
Worse, they have acted in bad faith and lied about PPEs, facemasks, care homes, the death toll, following the science, and held different standard in treating the breaching of rules between THEM and THE PEOPLE.
The Dominic Cummings situation was just the last straw...
Because it is one rule for them, one rule for us...
One rule for them, one rule for us... / HM Government - NHS
It is people in government showing pure contempt.
Contempt for the rules.
Contempt for the NHS workers and key workers.
Contempt for the victims and families of victims of coronavirus.
Contempt for the British people.
Dominic Cummings and Boris Johnson have now so badly damaged the people's trust in government that this might have very serious consequences if people are asked to isolate again for a second lockdown in the Autumn or in the Winter because of a second wave of coronavirus.
Not 'following the science'
Keeping aside the Cummings story, the blaming of Catherine Calderwood and Neil Ferguson were dead cats. Number 10 and its right-wing supporting Press were preparing the British people for a future "Don't blame the Government. Blame the science and the experts instead" narrative.
Wait for them to tell you...
Blame the science.
Blame the experts.
Blame the modelling.
Blame them not us...
Things started to get slightly out of hands for Number 10 when Professor John Edmunds, a professor of infectious disease modelling at the London School of Hygiene and Tropical Medicine, and a member of SAGE, admitted to the House of Lords Science Committee:
"Clearly the decision to open primary schools or not is a political one. It is not a scientific decision. Scientists can offer some advice.
"Overall, you have to weigh up those risks with other things, risks to the community, problems with children – clearly, we can't keep children off school forever. Weighing all of those things needs to be done by politicians."
At this point, the next – and long expected – phase in the blame game could start.
When journalists eventually started asking the difficult questions on how much of the science was actually guiding the Government's coronavirus decisions, especially on reopening schools – i.e. the questions that really matter, Number 10 started blaming the science. And when you blame the science, you blame the scientists, and the experts (something not unknown to the former Vote Leave team that now rules the country).
And so it didn't take long for a minister to launch the first wave of attack against the very scientists who advise Government. On 22 May, Therese Coffrey, the Work and Pensions Secretary told Sky News:
"If the science was wrong, advice at the time was wrong, I'm not surprised if people will then think we then made a wrong decision."
Watch out for more such attacks soon.
After the teachers, the councils, and the scientists, there will come a time where the Conservatives will have to blame other keyworkers, then the nurses and the doctors too...
Yes, remember, you have clapped for them. You even thought the new world would be different. A more thoughtful and kinder world. The new world is sadly as dirty and cynical as the old one.
Eventually the blame will fall on the 8 million people who have been furloughed – not working, staying at home, and yet receiving money from the government. Watch as the Environment Secretary George Eustice recently urged furloughed Britons to "lend a hand" as just a third of the usual number of Eastern European fruit and veg pickers have come to Britain this year. They even launched a 'Pick for Britain' website for it. A direct result of Theresa May and Boris Johnsons' Governments' anti-immigration policies.
Brexit bites back!
So, let the children return to school so that parents return to work. But not any parents...
By using recent statistics published by the ONS on occupational exposure to infectious diseases and proximity to others at work, Dr Mark Williams from Queen Mary University of London found that "those in routine and manual occupations are most likely to be exposed to infectious disease in their job," and that "these workers are also most likely to work in close proximity to others, making social distancing measures more difficult." In other words, "those workers being told to go back to work are also most vulnerable to infection at work."
"They are also most at risk to infection, as well as being the ones needing to go back to work the most to make ends meet. What kind of job you have has never been more important for your life chances."
"What COVID-19 does is accelerate the impact of these class differences and throw the issue into stark relief," Dr Williams concluded.
So, there it is. The Government is simply pushing for the reopening of schools so that workers with little to no social distancing conditions at work, the most vulnerable to coronavirus at work get business and the UK Economy moving again.
And what ever was the science behind Year 6 children returning to school for instance? (Because you would assume that there is a good reason for those children to be chosen to return to school rather than Year 2, 3, 4 or 5, right?)
"It's a chance to say goodbye to their friends..." Schools Minister Nick Gibb told MPs of the House of Commons' Education Committee. [sic]
Divide and rule
At this point in time, we understand the message. This Brexit Government never fails. Never gets anything wrong. It is fault-proof.
You even heard it from the Secretary of State for Environment, Food and Rural Affairs, George Eustice, who recently told a journalist, "We don't accept the caricature that we took an approach that was wrong", during a coronavirus daily briefing.
The level of arrogance of this Government and its ministers is just astounding.
But understand this: this Brexit Government and its allies are in charge, and they intend to remain in charge for a very, very long time. And for as long as they can do so – and with the help of their right-wing supporting Press – they will keep dividing people in order to rule and remain unaccountable.
Why THEY don't care?
Why THEY don't care about opinion polls showing a large majority of people want Dominic Cummings sacked?
Why THEY don't care about newspapers and journalists calling for Cummings to be sacked?
Why THEY don't care about MPs calling for Cummings to go?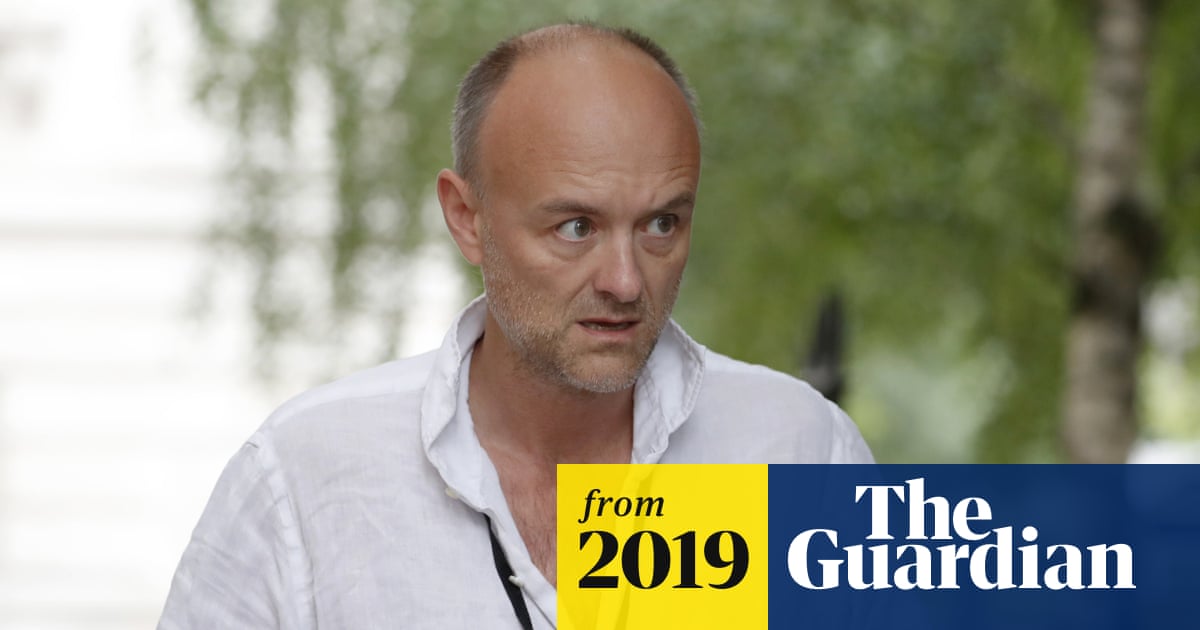 Why THEY don't care about one minister resigning and calling for Cummings to go?
Why THEY don't care about people on social media calling for Cummings to be sacked?
Why THEY don't care about families of victims making their voices heard in the media that they appalled by Cummings' behaviour and that he should be sacked?
Why THEY don't care about families of victims talking about their experience of losing family members and not being able to be with them till the end whilst Cummings was breaking lockdown rules, and are calling for his sacking?
Why THEY don't care about the millions of Britons who brilliantly adhered and respected the lockdown rules – in sometimes the most difficult of situations – and yet didn't try to cheat the system, and are calling for Cummings to be sacked?
Why THEY don't care that while NHS workers, social workers, and key workers risked their lives for us all every day, Cummings selfishly breached lockdown rules, and most people in this country agree that he deserves to be given the sack?
Why THEY don't care that even Brexiters and Tory supporters, politicians, and commentators are calling for Cummings to be sacked?
Why do THEY simply not care?
Because THEY know THEY can breach the guidelines, rules, and laws as they like, whilst YOU accept and yield to their authority. Because of the lockdown THEY fully control the narrative with their daily briefings, whilst YOU watch them telling lies, claiming victories, and misleading us.
Because THEY are in power, whilst YOU are divided. THEY use one of the oldest political strategies in the world.
Divide and rule.
Sadly, people never learn.
Propaganda briefings
From Boris Johnson's 10 May message to the country on, the coronavirus daily briefings in Downing Street have entirely turned into propaganda briefings and have had nothing to do with public health briefings any longer. It is clear that the Government is not so much interested in talking about health and the virus itself but about how essential it is for people to visit/sell houses, go to work, make business work. Ministers only show up to explain how great they are at their job, and how great the Government is at bringing new policies and guidelines for the sole benefit of its master. Money.
It has no longer anything to do with science.
It has everything to do with money.
Another proof: construction sites can now open until 9.00pm... "Keep Britain building". Basically, this is a Government telling Britons, you lazy folks have done nothing during lockdown, it is now time to get back to work, and work more, for longer hours too if necessary...
"Today, we reopen, we restart and we renew the housing market and the construction industry to protect lives, to save jobs, and to begin rebuilding our economy," the Housing Minister Robert Jenrick told the nation.
How is visiting and/or selling houses, and construction sites open until 9.00pm, actually protecting lives?
It is not.
It has nothing to do with saving lives either. It is alike the conversation around children and reopening schools. It is all designed to force people, low-paid workers especially, to get back to work so that Government does not have to pay for them to stay home.
Schools 'safe for teachers'. | The Sun | 22 May 2020
Again, it has nothing to do with the science.
The science does not call on reopening now. The Independent SAGE group has indeed warned that Boris Johnson's lockdown easing measures are "dangerous" and that the UK "faces further lockdowns if it follows the current path".
We also know now, after the government's publication of schools advice, that the reopening of schools had not even been modelled by SAGE.
"This points to a cavalier attitude towards the nation's children," Dr Mary Bousted, joint general secretary of the National Education Union. "The fact of the matter is that SAGE has only weak evidence as to what extent children can transmit the virus to others ... If we cannot be certain about the transmission of the virus – and it appears SAGE cannot, either – then it is only right to exercise caution."
Maybe what is needed is some kind of fact-based, fact-checked, daily or weekly conversation, or a Channel 4-style 'alternative daily briefing' that could be hosted by a group of scientists, journalists, teachers, parents, and business owners who could explain, with transparency and without bias, the situation to people.
And that would prevent something like this from happening:
After such a long read, you will be right to ask yourself the question: What will this Brexit Government prioritise? Having parents return to work to restart the UK Economy so that the City, the Tory donors, the wealthy right-wing Press Barons, and the lobbying businesses make money, or protecting those who contribute much less to the Economy – the children – and their teachers?
The answer is partly found in a recent piece by Professor Chris Grey in which he writes:
"We have a government whose most obvious characteristics are being pumped high on the steroids of Brexiter hubris and being staffed by perhaps the most woefully incompetent politicians in modern British history."
This Brexit Government will not take any decision that could put politicians in the blame seat if it all goes wrong.
If it does go wrong. If there is a second wave. Expect them to blame everyone and everything but themselves. They will blame the science. Blame the teachers. Blame the parents. Blame the councils. Blame the workers. Blame the NHS. Blame YOU!
The conversation over sending children back to school and slowly easing the lockdown in Britain exposes the Conservative Party for what it really is. A bunch of incompetent, know-it-all politicians absolutely averse to any type of scientific evidence and expertise, who rebuke criticisms as negativity and anti-patriotism, and believe in a fantasy Great Britishness and empty slogans.
They are unfit to lead this country through this crisis. There could not be a worse bunch of politicians to lead this country through a pandemic.
Wrong people.
Wrong place.
Wrong time.🔷
---
J.N. PAQUET, Editor of PMP Magazine.
PMP XTRA

Check their Voting Record:
[This piece was first published in PMP Magazine on 29 May 2020 & updated on 30 December 2020. | The author writes in a personal capacity.]